Are you planning to get hitched? Well, if it is so, first of all, congratulations on it. You might have started with the planning for your wedding reception, right? Often considered as the most tricky and daunting task, picking up a perfect decoration for the stage area takes a lot of time. It is because the stage is one of those prime areas at a wedding reception, which requires special attention.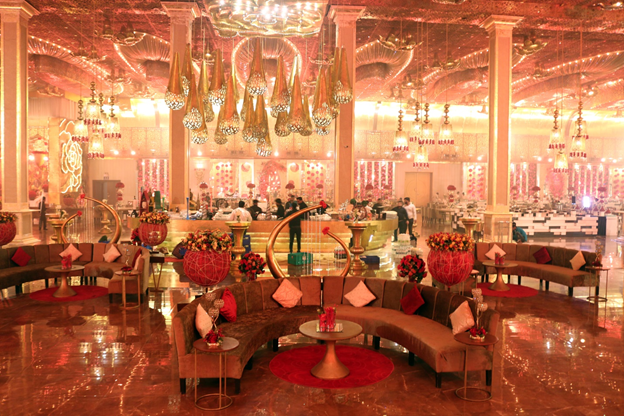 The bride and the groom are seated on the stage, and nearly all the mandatory photographs with family and friends are taken here. So, it is very vital to get the stage decorated with some elegant and luxurious décor idea matching to the outfit, taste, and the theme of the reception party. Here, in this article, you will come across a few bright decoration themes in which you can apply at reception venues in Gurgaon and make your party look extravagant and ravishing.
Paper flower theme
The idea of decorating the reception area with exotic flowers and lanterns beautifully crafted out of paper sounds enchanting. Right? The unique paper floral backdrop is a worthy theme which you can use for adding up the flavor of charm and beauty to your reception party. These paper made decoration serves as an amazing background for clicking photos. Usually, bright-colored fairy and focus lights are used with this unique combination to provide a more detailed frame.
Hanging Decor Theme
If you are thinking of breaking the monotony of owning a traditional stage at your wedding reception, you can opt for this idea. The floral hanging decor is us mesmerizing and as well as can make your guests hold their breath. The seating for the bride and groom is usually surrounded by beautiful floral strings, which makes the entire setting look like a canopy is the ultimate rescue. This idea is usually perfect for the destination wedding reception and is unique in its way.
Floral Heaven Theme
A wedding reception decor can never be complete without beautiful floral arrangements. The floral Heaven Theme is considered as the ideal one who can make your special day look more extravagant and memorable. The back wall can be painted with flowers owning a soft hue like a peach. The drapes wall served as an amazing background to your boring photographs adding up life to it.
The flavor of the White theme
Often considered as the most simple and minimalist stage decor idea, the elegant white drapes and the single row of done exotic flowers is the ideal choice for the ones who prefer simple decoration. This theme is suited for the couple who do not want a gaudy background and are looking forward to creating an impression. However, the couple needs to wear outfits of some contrasting color shade to match with the background and have amazing photoshoot experiences too.
These were a few wedding reception decor theme which can try at reception venues in Gurgaon and make your event look a wow. This decoration will add up a certain level of visual impact to the occasion and transform your space in a gorgeous way possible.