If you are ethnically inclined to this festive season then try out some experiment designers' have for you in Salwar fashion. Being simple yet in a fusion pattern, it can make you head turner. Adhering to the modesty of ethnicity you can do a lot makeover to your salwar draped look. Ultimately remember the great saying:-
                    "Let me embrace thee, sour adversity, for wise men says it is the wisest course" – William Shakespeare
Kurta and dupatta being the staple of Salwar suits have lot to do on the pattern and cut of both upper and lower part. Let's discuss in details with numerous cuts and pattern to assist you better with festival round the corner.
The flaunting petals pattern
Inspired by Tulip flower petals this pattern of pant is designed so in ankle length around the hemline that enhances the look. A three folded stitch resembles the flower. Keeping kurta in short knee length or upper than that you can pose in smarter ethnic look. Drape your dupatta around your neck if your figure type is hourglass or pear-shaped.
Afghani Style
The pant silhouette is flaring with narrow stich around ankle. The middle part of the pant flared to knee level forms a wider pleat and narrow cuffs in a vehement style. With balloon-like flairs, it complements the short kameez and a flaunting dupatta on one side. A neat one side braid or an untied hair spruced on one shoulder looks good. Chiffon, silk or net fabric of such salwar kameez online is hugely available.
Dhoti Salwar
Like flattering pleats of dhoti wearing style of ancient India, dhoti salwar is outlayed in the most traditional form. It is edgy and trendy when paired with short anarkali or angraksha kurti. Being comfortable and trendy for festival, party and office wear it can feature add-on to your traditional and ethnic side.
Cigarette Pant
Demonstrating its nomenclature it is straight tight ankle length pant which gives a very professional, classy yet smart look. Your inclination for wearing the salwar kameez will enhance when you come out with this comfortable traditional wear. Long jacket type front slit kameez is exuberating in salwar kameez online.
Harem Style
Slightly like that of Afghani style, it has less flair but more diameters. You can pair it with short kameez or crop top. A T-shirt can also fuse this ethnic-western fashion into a global statement.  Salwar kameez online USA has a growing demand of same. This is often found by celebrity and travellers to drape during their trip. Comfortability is its added factor. And your extra inches can hide under the influence of its flair so the figure is no consideration for such type.
Palazzo
With extra inches parallelly running throughout the pant up to bottom, hemline is palazzo.  All age groups have accepted it widely. Any kurti length can accompany it. It comes in higher designer pattern and normal cotton low ranges as well. For domestic, professional, fashion, party, wedding and any occasion it is unbeatable ethnic fashion.
Shararas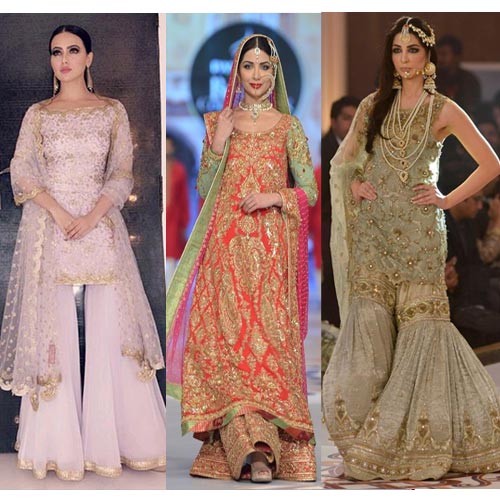 It is a flowy form with a special round flair from the knee is coming as mainstream fashion. Based on its origin in Muslim culture, this salwar suit is very traditional. Flaring itself in party and weddings it is on global fashion.
With these flairs of salwar pant, you can experiment a lot on the top or kurti part. Salwar kameez online USA has a high demand for traditional ethnic wear. You can try an asymmetric pattern or C-pattern hemline. Jacket form of kurti goes well with straight pant or pattern. Anarkali, Angraksha are some outlay that can be buzzing this season. If you have some other idea share with us and let the ethnic fashion rise the global hike.